GOWIN Semiconductor Corporation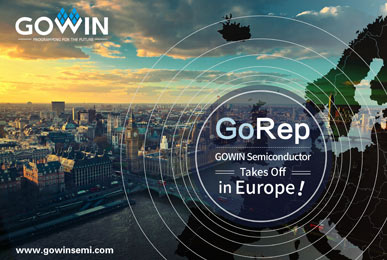 GOWIN Semiconductor Corporation, the world's fastest growing programmable logic company, today announces the appointment of GoRep Limited as its representative in Europe. This appointment represents further expansion in the territory following other recent distribution announcements as well as the opening of a European sales office and appointment of a Director of Sales and General Manager.
"We are delighted to have appointed GoRep as our representative in Europe and Middle East. Their high calibre sales force has long experience in the FPGA market and support for all major segments including communications, industrial, automotive, computing andconsumer," said Mike Furnival, Director of Sales at GOWIN Europe. "We have no doubt that this appointment will further enhance our recent strong revenue growth and design win momentum in China and more recently, rest of Asia and North America. Their focus and commitment is second to none and we feel sure that as a result our European business and customers will benefit significantly over the coming months."
"We are very excited to be working with GoWin, supporting the company's growth in the European region. We will be working hard to help build and grow the company's already impressive customer momentum in other regions" said Peter Rogers, Founder at GoRep. "The technology GoWin brings to the market is very exciting and has the opportunity to change the landscape of FPGAs and SoCs very rapidly. Furthermore it is and excellent synergistic fit for our other major vendors."
About GOWIN Semiconductor Corp.
Founded in 2014, GOWIN Semiconductor Corp., headquartered with major R&D in China, has the vision to accelerate customer innovation world wide with our programmable solutions. We focus on optimizing our products and removing barriers for customers using programmable logic devices. Our commitment to technology and quality enables customers to reduce the total cost of ownership from using FPGA on their production boards. Our offerings include a broad portfolio of programmable logic devices, design software, intellectual property (IP) cores, reference designs, and development kits. We strive to serve customers in the consumer, industrial, communication, medical, and automotive markets worldwide.
For more information about GOWIN, please visit www.gowinsemi.com
About GoRep Ltd.
Stay Informed
When you subscribe to the blog, we will send you an e-mail when there are new updates on the site so you wouldn't miss them.